Shopify vs Magento vs WooCommerce vs Prestashop: Which is Best Ecommerce Platform?
2nd April 2020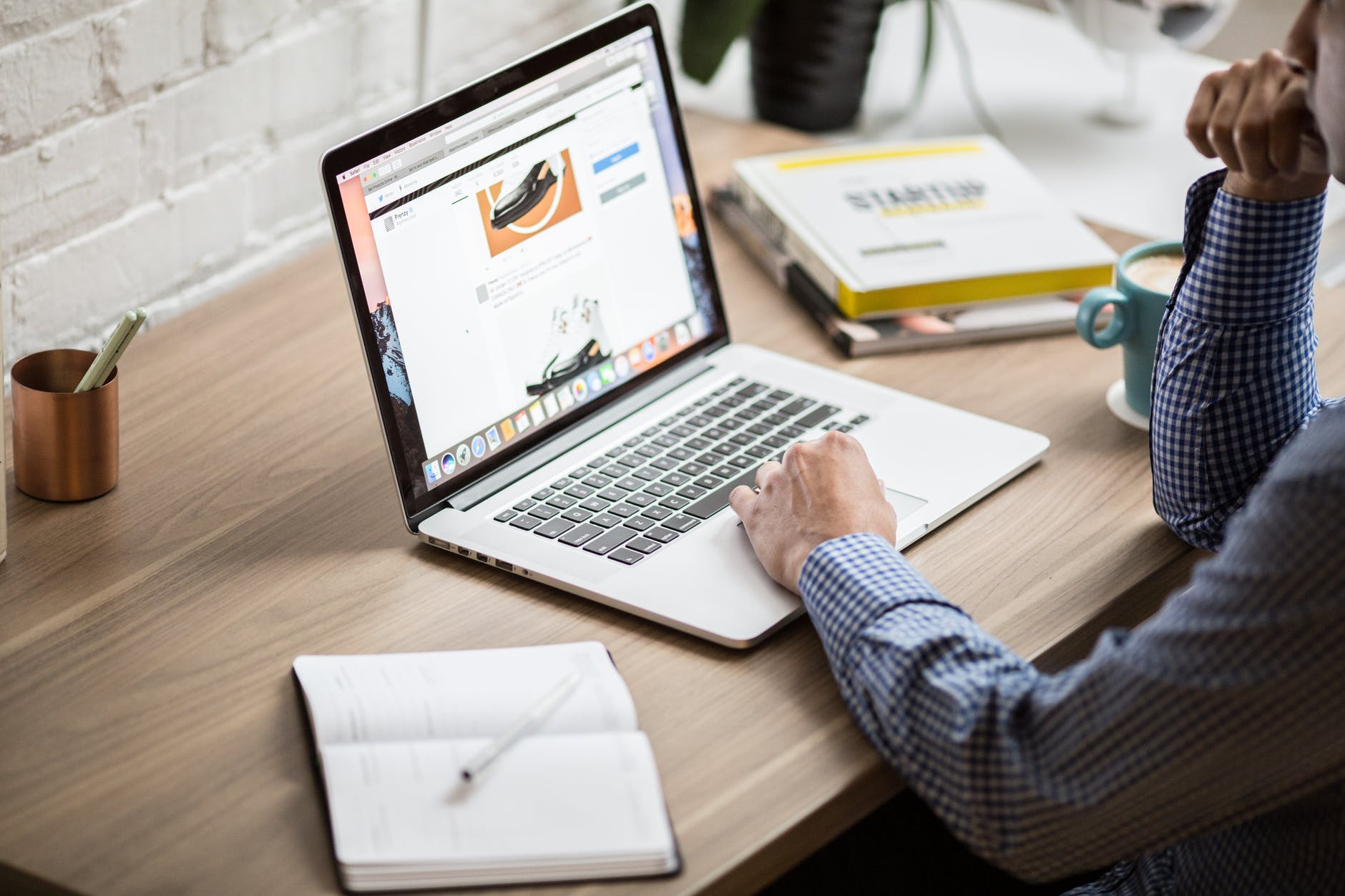 Choosing one of the eCommerce platforms is the first decision you have to make when setting up your own online store. Discover the main features of the most popular one's today: Prestashop, Shopify, Magento or WooCommerce.
If you decide to set up your own online store, you will have to decide which of the eCommerce platforms that offer this service is best for you.
In this article, you will find the pros and cons of each of the major alternatives that are available right now to build your eCommerce. The goal is to allow you to have a clear idea of ​​what their similarities and differences are to help you in your choice.
Ecommerce Platforms: What You Have to Compare
To begin with, it can be stated that the four options you have reviewed in this article are all consolidated tools for online commerce. Therefore, anyone of them fulfills the main function that is to sell. However, depending on your needs and goals, you may be more interested in one species than the others.
It is obviously not the same as having or no programming experience. It's not the same as having a physical store and a blog up and running just starting an eCommerce from scratch.
In the comparison we will make of the four most important eCommerce platforms we will see the following features:
Platform Type: Open Source or Proprietary Platform.
Ease of management and learning.
Possibilities of customization.
Technical support.
SEO positioning.
Integration with external tools.
Costs.
These are the elements that should serve you to decide on one service or another. We will see it next in each of the platforms for eCommerce.
The Four Best Ecommerce Platforms for Online Stores
Prestashop
Prestashop was launched in 2007. It is designed for small and medium-sized businesses.
It is open-source, programmed in PHP language, and must be installed on your own hosting service. Therefore, you have to hire a hosting plan and you will need to have an SSL security certificate, perform updates and other revisions and maintenance actions to make sure everything is working properly. The software is free. You do not have to register to use it or pay commissions.
However, paying attention to Prestashop users is paid. The cheapest plan costs $249 per month for just three hours of assistance.
An interesting option, but one that stands out in no way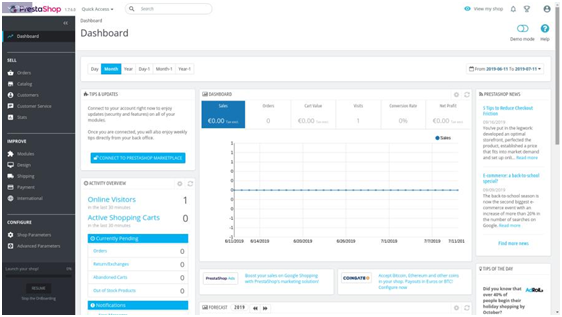 Prestashop has a mid-level admin panel. It's considerably less comprehensive than other eCommerce platforms, and the options it has are sometimes not intuitive. It can be easy to use when you already know it, but learning takes time. It's one of the reasons why it's been losing users in favor of other eCommerce services, especially WooCommerce.
Once you understand how it works, you manage your online store with minimal technical knowledge. You can try a sample demo from their website.
Customization options: You can add or remove features to tailor the store to your business model. You can take advantage of Prestashop Marketplace modules and themes for more customization of your eCommerce. It's free, but for sure, to be successful, you'll need some templates and payment modules.
It has its own positioning options that allow you to configure the SEO of your online store.
You can export product lists to Amazon, Google Shopping or eBay, among others. However, Prestashop is not a CMS like WordPress, so you may have difficulty integrating general features that are not unique to online commerce. The Prestashop community is large, but it is losing out on competition because of the other options.
Shopify
Shopify is an eCommerce platform that has a good following and a good following. In this case, this is a Canadian company that launched in 2006 and has gained momentum over the years.
Unlike the other three options, it is the only one that is not open-source software, but a proprietary platform where you do not have access to the code to make the modifications you want. Therefore, you do not have to hire your own hosting or take care of the installation and maintenance of the store, as these benefits are included in the service offered by Shopify.
Shopify is characterized by being very simple to use. In this regard, it is possibly the one that offers greater ease of use and learning. It is his strength that has allowed him to gain market share in recent years. You don't need any technical or programming knowledge, with Shopify you have the store set up to start selling and you just need to upload products and manage customers and orders.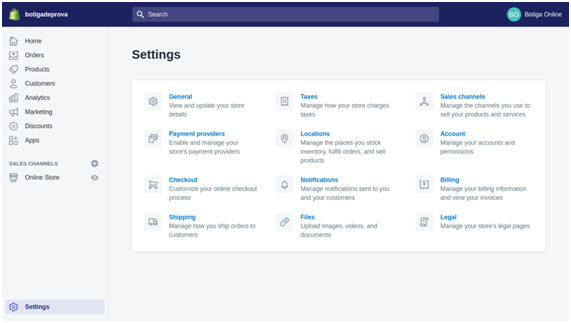 As a unique benefit, you can buy a store that is already up and running with your Exchange or use its mobile app to manage your store from anywhere.
In the personalization section, as in other platforms, there are free templates, but only 10. To really have a store that works, you will need a paid template where you can find the design that best suits the style of your business. Precisely the fact that it is not open source prevents further customization, as its programming cannot be modified.
It also stands out for its technical support offered via email, chat or telephone.
Shopify Costs
Logically, this model is priced. To begin with, with a proprietary platform the store cannot be said to be really yours. You have to keep in mind that all the information about your business, customers, and purchases will be in the hands of Shopify.
In addition, Shopify has different monthly payment plans. It gives you a free trial period of 14 days and then you have to start boxing:
Shopify Basic Plan: $29 per month with 2.9% + 30¢ per online transaction.
Shopify Plan: $79 per monthwith 2.6% + 30¢ per transaction.
Advanced Shopify Plan:$299 per month, with 2.4% + 30¢ per transaction.
Shopify Plus: Plan for stores with high sales volumes.
Shopify Lite: Buy button on Facebook for $9 per month.
But in addition to the fixed monthly cost, you have to pay a commission on Shopify for each sale your store makes. Whether you use the credit card system built into the platform, or want to offer payments through other external gateways. In the latter case, you will also have to add the fees of the payment gateway itself.
In the section of the functionalities that you want to add and integrations is where Shopify loses the game. Its possibilities in this area are limited. You will not find support or free tutorials on the Internet because you do not have a support community as this is a private paid service.
Magento
Magento is an e-commerce platform with an open-source distribution. The software is free but you will have to go through the box even to use payment gateways. In fact, Magento also offers a commercial version with payment solutions that offer more functionalities than the free version.
In this case, learning is surely the most complex of all options. The reason is the high number of settings available for each configuration parameter. Therefore, it is a service that is not recommended for beginners in eCommerce.
In the latest version the administration panel has improved greatly in its visual appearance and in simplicity, but even entering the configuration details is not for beginners.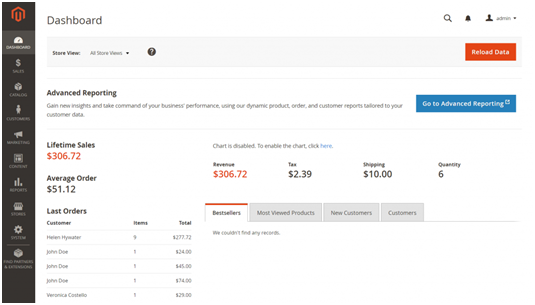 Magento is recommended for medium and large companies who have no doubts about hiring a developer who is in charge of the most technical work
Extending functionality as you need them or integrating with external services is not your strength either. This is not as noticeable as with Shopify, as Magento has a Marketplace where you can buy themes and extensions, but they lack basic features that can be. For example, since Magento development is a purely eCommerce platform, incorporating a blog into your store is not as easy as with the following option.
The Magento community of users is considerable, but you will find support mainly in English, or directly with the company's services through its website.
WooCommerce
WooCommerce is free and open-source just like Prestashop and Magento. Therefore, it must also be installed in your contracted accommodation which you have to pay. And as in the free options, you have to take care of their maintenance and security.
A WordPress Extension
WooCommerce is a WordPress plugin, the best CMS for website creation. So, it is definitely the best option if you have a WordPress and you want to have an online store because you know the environment in which you will work.
But even if you are not familiar with WordPress, it has become very popular for its easy handling and configuration to create and manage an online store. For this reason, it is the fastest-growing option and wins users from other platforms year after year.
You have hundreds of free and premium templates tailored to WooCommerce to personalize the look of your eCommerce. Obviously premium themes will make it much easier to customize.
In the same sense, there are also many free extensions in the WordPress repository that will add functionality to your online store. But you may also need to include a payment extension if you really want to add features that help launch the store and improve sales.
However, the most notable difference with other services is their community. With WooCommerce you can find a lot of free help among your community of users, blogs, and videos with tutorials. You can also entrust the technical support to freelancers who will offer their services. And for better prices than the assistance of any other platform.
Limitations are often criticized for creating an extensive product catalog. If so, it must be a limitation on many, many, many products. Because there are online stores with thousands of WooCommerce products that work perfectly and successfully.
In addition, you can take advantage of the whole arsenal of tools and integrations for WordPress to easily and efficiently manage SEO, advertising on Facebook or Google, email marketing, guest analytics, optimization or security, among so many others.
Conclusions: What Is the Best Ecommerce Platform?
Possibly the most complete and balanced option, and surely my favorite, is WooCommerce. It wins the other two open-source options in ease of use and integration with third-party tools. Shopify, on the other hand, would outperform WooCommerce in ease of use and learning, but in the only aspect, it wins.
Being open-source and an extension to convert WordPress into an online store, both the WooCommerce plugin itself and many extensions to add functionality are free. Therefore, Shopify cannot compete with WooCommerce in this section. But really both for the added costs of payment options and for the support of their extensive community, neither Prestashop nor Magento outperforms WooCommerce.
In the personalization section, there is no clear winner among the three open-source options. All three platforms can be modified and have default options to adapt your store to your business style. What is there is a loser: Shopify.
Magento is a very powerful open-source eCommerce option, but its complexity makes you rely more on specialized support and at much higher prices, both in web development and development and in technical support. This can be your choice if you have programming skills and already have digital business experience.
And finally, Prestashop loses its piston because it offers no clear advantages to consider in any respect that we have examined with respect to its competitors. I hope this article has helped you see the key features of the major eCommerce platforms available. And if you opt for WooCommerce, in this blog you will find more information that will be useful for your online store.
Notice
: Trying to get property 'name' of non-object in
/home/gonexcom/stabene.net/wp-content/themes/stabene/single.php
on line
40
Notice
: Trying to get property 'name' of non-object in
/home/gonexcom/stabene.net/wp-content/themes/stabene/single.php
on line
40
Notice
: Trying to get property 'name' of non-object in
/home/gonexcom/stabene.net/wp-content/themes/stabene/single.php
on line
40