10 essential items a girl should have in her closet
12th March 2019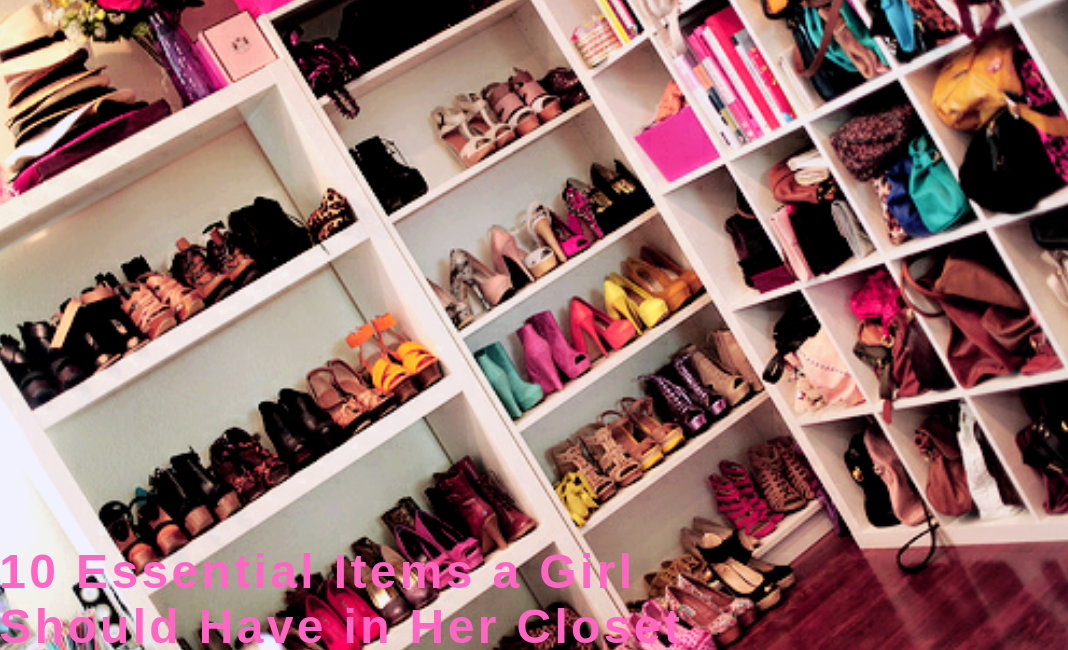 Here comes summer when girls throw away their long jackets and coats and replace them with fancy, colorful clothes. Winter clothing cannot be used the whole year round such as coats, cozy sweaters, and furry jackets. They can only be worn a few times after which they are kept aside. So rather than spending a huge budget on unnecessary things girls should focus on items which can be used again and again in a trending manner.
However, there are some sophisticated items which a girl should always have in her closet to meet every occasion or event. Every girl tries to keep a variety of outfits in her wardrobe but these 10 items would help them match any other clothing. Buying everything branded might be expensive but it is must for every girl to stay up to date with the most trending styles and getups. Take a look and keep yourself prepared for the upcoming season.
A cozy black and white cardigan
Black and white colors can never get out of fashion and can be worn at any time of the year. In winters, the cardigan can be worn with a decent jacket, and on the other hand in summers it can be worn with a colorful, plain or checkered Shirt. Apart from parties and occasions, you can use those cardigans during workouts or jogging. Cardigans are one comfy outfit which can also be utilized while going to bed as well.
A classy Black blazer
Whether you're going to an office or a party it is necessary to dress according to the trend. A black blazer is one essential thing which can help at all times. Meetings or special events, it will never leave your back. A black blazer with a beautiful shirt and dress pant will help you look fashionable and gorgeous.
Jumpsuit
A jumpsuit can't be worn everywhere but it is trending. They are easily available and accessible. Don't get a branded one, a simple and delicate one can work too for a few events. Trust me, this is one outfit which will help you to look stunning at a party and it is essential to walk according to the trend.
A satin skirt
If you have to get ready for a formal or informal meet up, you can pair up that satin skirt with any colored shirt. It will help to look classy and pretty at the same time. Even if you try wearing a plain white shirt over a satin skirt, that will also make you look marvelous.
Blue jeans
Blue jeans are one of the most important items every girl should buy. I wonder how a girl can exist without a jeans pant. It can be worn with any sort of shirts or T-shirts. Whether they are colorful, short, and long or any type it can easily match with jeans.
There is one thing a girl should keep in mind when wearing jeans. If you are going for a formal occasion then avoid wearing jeans as they might not suit for some formal meeting or office work. Try to wear jeans on informal occasions.
A white t-shirt
The best outfit which can be worn all year round is a white t-shirt. Whether you are going to the gym or out with a friend, a white tee will always do the magic. Just pair it up with a colored pant or maybe jeans and that will complete your whole outfit marvelously.
White sneakers
Slippers and heals can be painful and uncomfortable in a few situations. A pair of white sneakers can always be used if you are wearing jeans, cigarette pants or any other formal pants. Just to stay away from the discomfort of heals; sneakers will always be the most comfortable way to ease your life.
Beautiful black heals
Obviously, I know how uncomfortable heals can be for a long day but at times you have to maintain your fashion. During formal occasions or parties, a show-stopping black pair of heels can make your day. Whether you are wearing a skirt or spectacular dress, the heals will definitely add more value to make you look more stunning.
Trench coat
There are days when you don't feel like getting up and selecting apparels for yourself from the closet. In such situations that trench coat will help you the most. Just put that coat on and the inner clothes won't really matter. Pair it up with any jeans and the outfit will work in both formal and informal situations. Trust me, you will still look stunning in that decent trench coat and you won't really worry about what you have worn inside that coat.
Few accessories
Some rings, watches, earing or necklaces always make you look more eye-catching. They give you a presentable look no matter what the occasions are like. Try to buy some trendy accessories which can be reused whenever needed.
Fashionable and trending ladies usually buy accessories as much as they can. There's no harm in purchasing more accessories. They all can be used all year round no matter what season or occasion it is. If you feel you can carry all those accessories and if you're comfortable with it, don't think and just go shop as much as you can.
Endnote
Instead of wasting your income and budget on unnecessary shopping, try considering these few things which will help you look good every day. Every girl wants to look good and stunning at every occasion so these are some simple items which will keep your back at every point. So get started and shop all these items mentioned above. Make sure you pair them up with the perfect match or else you might fail in looking good. Reuse them in different ways and you will stay up to date and trendy. Make sure not to get extra branded or expensive ones. Keep it simple and decent! Fill your wardrobe with the most essential things mentioned above.
Notice
: Trying to get property 'name' of non-object in
/home/gonexcom/stabene.net/wp-content/themes/stabene/single.php
on line
40
Notice
: Trying to get property 'name' of non-object in
/home/gonexcom/stabene.net/wp-content/themes/stabene/single.php
on line
40
Notice
: Trying to get property 'name' of non-object in
/home/gonexcom/stabene.net/wp-content/themes/stabene/single.php
on line
40