Top 10 richest actors in 2019
1st January 2020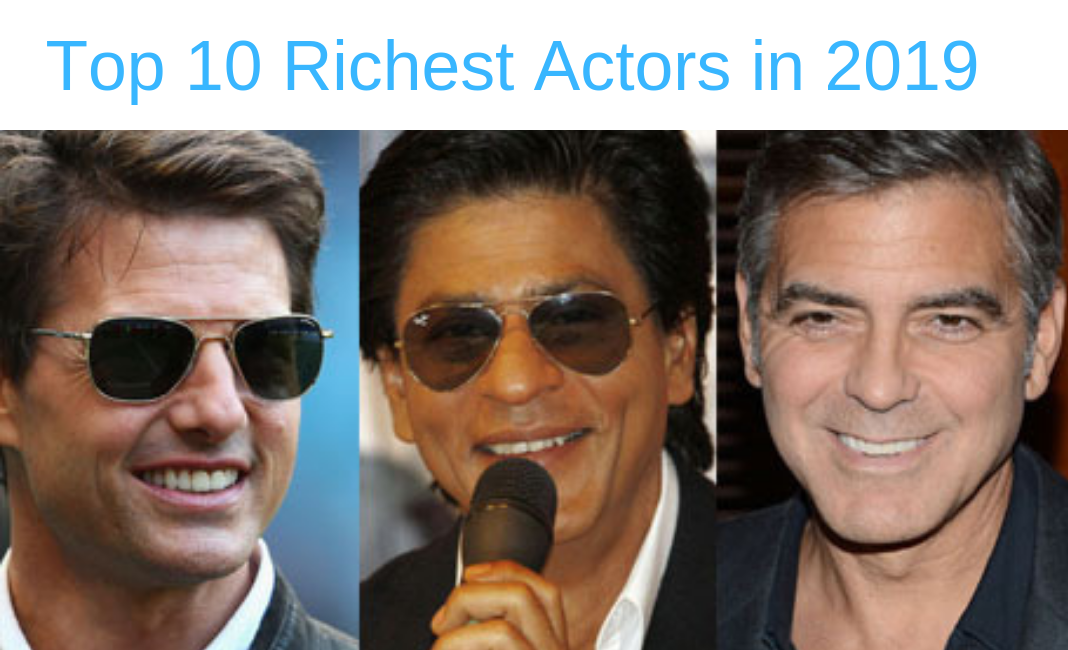 Have you ever thought how much an actor might earn? Some of the most famous and popular actors are worth more than a half billion dollars. Shocking right? Let me give you a list of some popular actors which are ranked as the top and richest worldwide. By their amazing acting and performances, they have reached such a fantastic level.
1.     Shah Rukh Khan
Shah Rukh Khan is a Bollywood actor from New Delhi, India. He is commonly known as "King Khan" or "The King of Bollywood". Due to his excellent acting in above 70 movies, his worth is around $750 million. He has won many awards and is now the richest actor worldwide.
2.     Tom Cruise
The second richest actor, Tom Cruise is an American actor and producer. His good looks and fantastic acting has made his worth around $550 million. People all around the world love watching his fabulous movies.
3.     George Clooney
George Clooney is not just a famous actor but a director too. A famous American actor from Kentucky now has a worth of $500 million. Three Kings is one of his famous movies through which he received many awards.
4.     Amitabh Bachchan
Amitabh Bachchan, a 76-year-old actor, has a worth of $425 million. He is famous in the Bollywood industry due to his work and dedication. Zanjeer, Deewar and Sholay were one of the first movies which made him famous.
5.     Mel Gibson
Mel Gibson is the world's 5th most affluent actor whos worth is $425 million. He is a 67-year-old American actor and filmmaker. Some of his famous movies are Braveheart, and We were soldiers. He is much known for his superhero roles in a variety of film.
6.     Jack Nicholson
81 year old, Jack Nicolson has worked for over 60 years as an actor, producer and writer. Due to his years of hard work his worth in 2019 is $400 million.
7.     Sylvester Stallone
The seventh richest actor worldwide Sylvester Stallone is much known for his action movies. His famous films include Rocky, Creed and the expendables. His worth is now $400 million.
8.     Jackie Chan
Every child has also watched Jackie Chans incredible action movies. He is a producer, director and actor from Hong Kong. He is not just an actor but a martial artist too. His worth is $395 million due to his beautiful movies including karate kid, rush hour and Who am I.
9.     Clint Eastwood
Clint is an 88-year-old American actor from San Francisco. His worth is $375 million, and he has won many awards including the Academy Award for best director and producer.
10.    Tom Hanks
Last but not least Tom Hanks is the tenth richest actor in 2019. He is famous for his comedic roles in different movies. His worth is of $350 million.
Conclusion
You might have never expected these actors to be the richest, but amazingly they are. They have spent years of hard work and dedication to get to this level. Getting on this list could never be an easy task.
Notice
: Trying to get property 'name' of non-object in
/home/gonexcom/stabene.net/wp-content/themes/stabene/single.php
on line
40
Notice
: Trying to get property 'name' of non-object in
/home/gonexcom/stabene.net/wp-content/themes/stabene/single.php
on line
40
Notice
: Trying to get property 'name' of non-object in
/home/gonexcom/stabene.net/wp-content/themes/stabene/single.php
on line
40