Email Marketing vs. Social Media: Understand how they intersect
3rd March 2020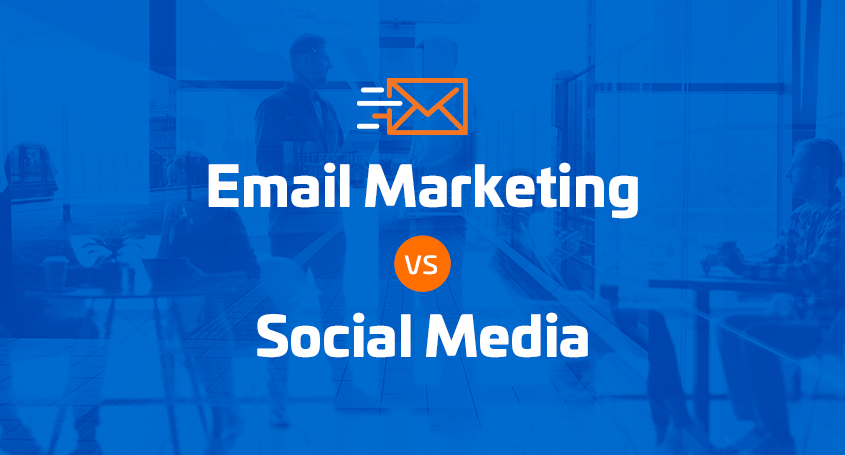 Let us discuss Email Marketing and Social Media Marketing from the core. After this discussion let us move on with how to intersect both of them in all possible ways. This may lead you to develop a great marketing strategy for your services.
Email Marketing:
Email marketing helps to send commercial email messages to multiple people through Email. Every commercial email sent to the potential customer could be known as email marketing. Most broadly commercial emails are such as advertisements of your concern, the announcement of new products from your concern, business request fliers and so on. This kind of sending emails to your potential and existing customers leads your business to build more loyalty, trust and brand awareness among the audience. Sending Email messages to existing customers and previous customers encourage the relationship between you and your customers also leads to creating a new audience for you. Email marketing not only contains your product instead send them the related needed product introduction to your existing customers. From this, you may healthily engage your existing customers.
Benefits of Email Marketing:
Converts lead into sales by cultivating relationships more directly with the customers
Develops filtered subscribers based on their product purchase
No need to meet the general audience
By the day starting itself you can reach your brand to the audience since more than 3.8 billion users start their day by after checking emails.
Build a stronger customer relationship with your brand.
Understand the mindset of your customers by sending A/B testing email. A/B testing email works in the way that you can send the same email marketing message with the two different headlines such as "A" and "B". Then you can analyze carefully which kind of email converts your leads into sales. Then you can follow the same for everyone.
Increases traffic for your website. Once if you are reaching your email to the potential audience then they may visit your landing website to see the product details. Through this, you can increase the traffic rate of your website.
Increases ROI (Return on Investment). Based on the study of DMA and Demand Metric when you compare email marketing ROI with other marketing strategy's ROI, the average ROI of email marketing is 122%. It is 4 times better than other marketing strategies such as social media marketing, paid search marketing etc.
Difficulties of Email Marketing:
Convincing readers and compelling readers to open the email by using the single headline
Directing your email messages into inbox by avoiding the spam box
Undelivered emails – sometimes email is not getting delivered because of some poor design
Download size is very small enough to open
Time is taken to design email marketing strategies
Social Media Marketing:
Social media marketing helps to promote your brand or content on social media channels such as Instagram, Facebook, Twitter, and Youtube etc. Nearly 3.2 billion people are using social media around the world. Social media channels allow business people to brand their products with their customers as well as with the general audience directly. Through this, you can build brand loyalty among the audiences. When compared with other marketing strategies social media marketing strategy contains a large number of enormous audiences. You can avail your brand details and marketing strategy among a large number of people when you are using social media marketing.
Benefits of Social media marketing:
Improves interaction with the audience. Since you can create your content with voice and you can deliver with your audience dynamically. The audience may also comment on them also they can interact with you. Through this, you can increase the engagement rate.
Get the ideas of marketplace insights. You can analyze the audience activities and through this, you can get the status of the marketplace for your product easily
Pushing to the top position. When you are developing the proper content and reaching it to your potential audience through social media marketing you may get pushed to the top position among your competitors.
Reach your audience multiple times per day. Since the audience may not be thinking that you are annoying them, but they may think that you are making them an updated person.
Targeting specific customers and identifying their geographical details
Difficulties of social media marketing:
Developing different kinds of content for each social media. Because In the case of Instagram you need to update high-quality visuals. In the case of Linked in it is different and so on.
The organic reach of the social media post is very hard to come by.
Number of fake profiles in social media leads to waste of time of making your content
Finally, the ROI of social media marketing is very less when compared with other marketing strategies.
Now you may understand the scenario of Email marketing, Social Media marketing, its benefits, and its difficulties. And you can understand Email marketing and social media marketing leads to separate purposes. The selection of the marketing strategy is completely dependent on your requirement.
For example, if you want to drive a sales campaign then you can select Email marketing. And if you want to expand your reach and engagement with the users then you can select Social media marketing. In such a scenario there may be a little bit of confusion to choose the best one.
Which one is best?
Ok now, consider this scenario. For example, if your customers may get your email – marketing messages in their email inbox. And they may click your email and through that Email, they may check your Instagram post regarding the same product and promotions. Also if they may visit the comment section of your customers. Sure it will show the way of convincing your customers to purchase and lead the sales of your product.
See this scenario gives you a clear picture of integration choice of Email marketing and social media marketing. Ultimately if it is done properly, that Email and Social Media can work together for your business and it will build brand loyalty, drive leads among your potential audience.
Even though it may seem like Email marketing and social media marketing travel in a different way, they can play together to reach your product sales in your campaign.
Intersection of Email Marketing and Social Media Marketing:
Now we are going to discuss how email marketing and social media marketing can intersect each other to lead the new reach of your product.
Include all your social media links within your marketing email messages. Through this, you can engage your audience in a new way of introducing your brand and your content.
In the below screenshot you may see how they are including their social media links within their email messages. It has been mentioned in a red round shape.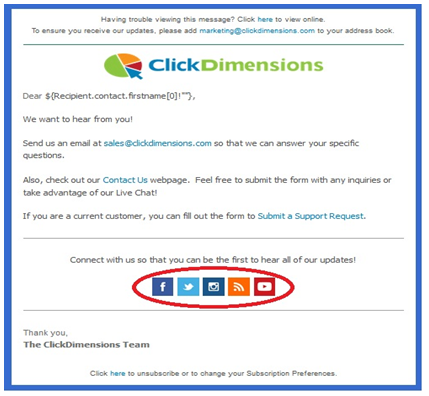 Share marketing emails to your potential customers and ask them to visit, like your social media pages to get the updated live details of your product or services.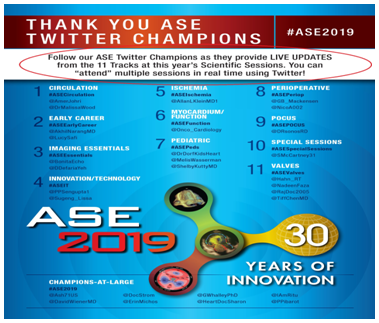 For example, In the below advertisement part you can see that ASE2019 insists the audience stay connected with their Twitter page to get live updates about their services.
In Instagram post, insist your customers stay on email messages through including your email id in the advertisement part.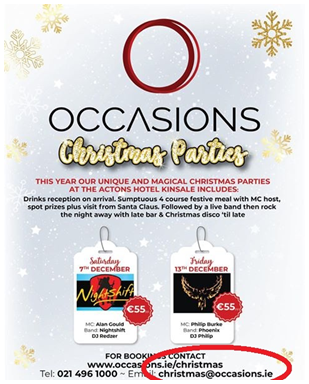 For example, you can see in the below Instagram advertisement. They may mention their mail id to reach them through email also.
In this way, you can engage your audience in email marketing through social media marketing.
Retargeting your missed audience through Facebook and Twitter campaign
If you are missing out on sending email marketing messages to potential customers, don't worry. Retarget them through social media marketing strategy. If you are getting the list of missed out email subscribers then retarget them through social media such as Facebook and Twitter. Ask them to visit your social media pages to know more about your product details and services.
Embed signup form on your Facebook business page
You know how Facebook deals with a massive audience that you cannot neglect but from the above discussion, you may understand it is not only enough to reach more audiences. So that includes your email sign up link on your Facebook business page. So you can send your brand or product-related email newsletter with great content to the audience in a better way.
Spread awareness of your newsletter through snapchat
Snapchat is a multimedia messaging app used globally. More than 10 billion videos are watched by snapchat users per day. It is a great opportunity for you to deliver your brand awareness also about your newsletter easily. Create the better sneak peek of your campaign and telecast it in snapchat and also talk about the benefits of joining your email list in that itself. Project your sign up details in the video. Through this, you can integrate snapchat and email.
Add all your social media links in a thanksgiving message
When you are sending an email thanksgiving message to your potential customers, ask them to invite their friends to reach your social media links. In the below screenshot you can see how all the social media links are getting insisted to visit.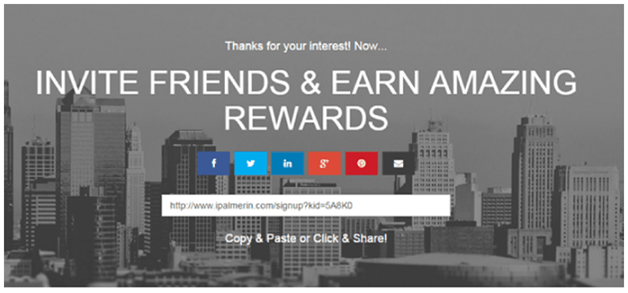 Encourage your social media followers to join with your email community
When you are concerned about social media there you don't have control over the network properties. Because in all the social media your concern is under someone's control. Assume this scenario that if you are maintaining your page within Facebook and if you are having more number of fan followers. One day if your page is getting shut down for not following the guidelines of Facebook or for any other reason that you may not be aware of it. See this is the very bad condition of your concern that you are going to lose all your followers within one day. The same may happen in all the other social media.
Now you can understand the formation of the email community. In the case of this kind of Email community, you can maintain your community all the time.
So, whenever you are creating any social media content, then ask your followers to join in your email community. Through this, you can grow your email community with a strong foundation.
Schedule new posts on social media about your email list through a story
As a process of engaging your audience, you can schedule your new posts on social media about your email list. It can be done through the story tab easily. Also, you can add the link in your Instagram bio and so on. If the audiences are not in your email list, then they can get what kind of content you are going to publish in your newsletter through this social media schedule. And if the content is most wanted by the audience then sure they will join with you in the Email community also.
Run some interesting contests:
Nowadays everyone is in a faster-moving working environment. People love to engage in fun and some interesting factors. But they don't even have time for that even. But if you are creating that such option to them through social media then it will develop good rapport on you. Develop the contest with a call-to-action and prize. And after that person who wants to participate in this contest, ask them to sign up for your email newsletter. Now you can get a worthy valuable audience list for your service.
This way creates a better and worthy audience since they are completely attached to your services with the expectation of this kind of contest again. They may recommend your service to their neighbour also.
Wrap up:
As a marketer, you may get some ideas for how to intersect email marketing strategy and social media marketing strategy through possible ways. Still, there are a lot of ways to implement integration. Join together with each other will be the cornerstone of your digital marketing strategy.
Do not miss out on this great chance to integrate email marketing and social media marketing in your marketing strategy.
Notice
: Trying to get property 'name' of non-object in
/home/gonexcom/stabene.net/wp-content/themes/stabene/single.php
on line
40
Notice
: Trying to get property 'name' of non-object in
/home/gonexcom/stabene.net/wp-content/themes/stabene/single.php
on line
40
Notice
: Trying to get property 'name' of non-object in
/home/gonexcom/stabene.net/wp-content/themes/stabene/single.php
on line
40